We offer a range of aerial surveying and imaging solutions, using an Infinite Jib™ Surveyor 630 Unmanned Aerial Vehicle (UAV). The Infinite Jib™ Surveyor 630 is a robust Multirotor UAV. It is able to fly in a variety of weather conditions, carrying an array of sensors or cameras. Our technology is quick, safe, and accurate.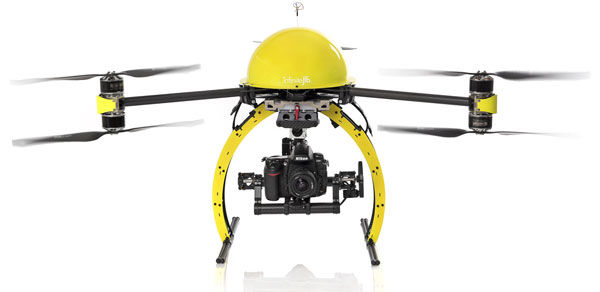 Applications of Aerial Surveying and Imaging:
Volume Calculations – Landfills, tailings ponds, cut/fill volumes, stockpile volumes of aggregates, quarried stone, topsoil, mulch, winter sand or anything else in your inventory.
3D Mapping – Aerial Photogrammetry, Digital Terrain Models (DTM), Digital Elevation Models (DEM), Digital Surface Models (DSM), Contour Mapping, Watershed Mapping and much more.
Construction Site Information – Aerial surveys for planning, pre-construction, monitoring construction phases and post-construction
Real Estate – High-resolution photos and videos will add the uniqueness and a "wow" factor that will grab the attention of buyers.
Thermal Imaging – provide infrared imaging for the roofing industry to locate leaks, hot/cold spots, overall health of the roof. Solar panel inspections to ensure long life, efficiency and a high return on investment.
Please contact us for more information, or a quote.
Save
Save
Save
Save
Save